Zoom's 90-day security plan
Zoom launched Zoom 5.0 on April 27, featuring drastic security and safety improvements, much needed after heavy criticism worldwide. Zoom launched a 90-day security plan and one month (1/3rd) down the road, it is time to find out where Zoom is at during this transition.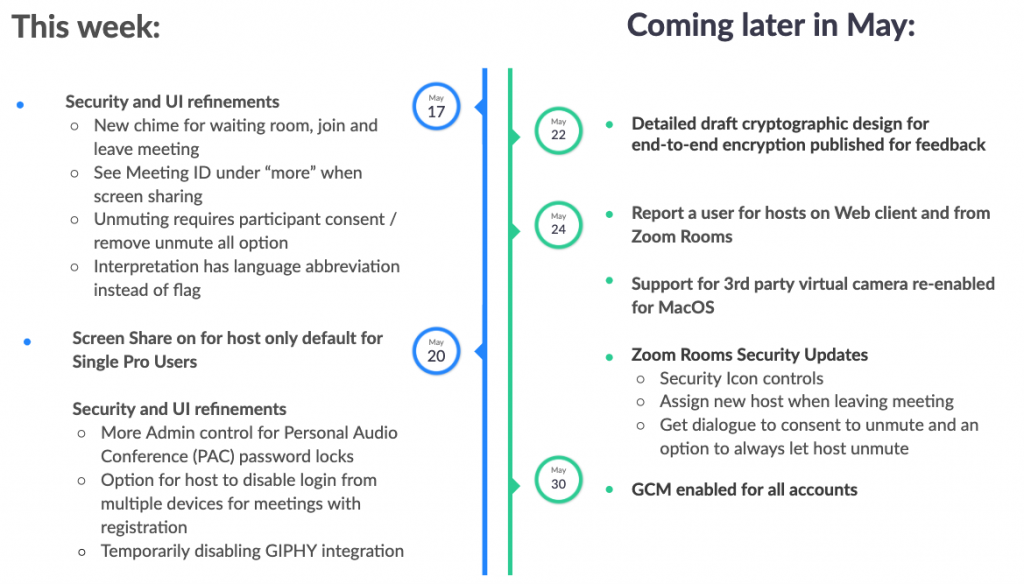 Video conferencing professionals may raise some eyebrows when reading some of the security features, because although some of these are called features by Zoom, these are merely bug fixes. Many of these are deemed 'standard' and 'couldn't imagine this was even possible'. Zoom does not have the decade or longer experience its competitors may have, but the vast distribution of Zoom around users of any type around the world, called for immediate and drastic changes. Some of them are highlighted below.
Waiting Room Enabled by Default.
The Waiting Room feature allows the host to control when a participant joins the meeting. As the meeting host, you can admit attendees one by one or hold all attendees in the waiting room and admit them all at once. You can send all participants to the waiting room when joining your meeting or only guests, participants who are not on your Zoom account or are not signed in. Zoom tells: "It is recommended best practice for all customers to turn on Waiting Rooms."
New audio for Waiting Rooms: We've created a specific audio chime for when someone hits the Waiting Room, so hosts are aware that they're there. You can also enable the "Play sound when participants join or leave" feature to hear alerts when participants are coming and going.
Complex Meeting IDs.
Eleven digit unique meeting IDs are now in place. Meeting IDs are also removed from the content sharing window to prevent accidental sharing of meeting information.
Passwords & Password complexity.
Meeting passwords are now more complex and enabled by default for most customers, including all Basic, single-license Pro, and K-12 customers. For administered accounts, account admins now have the ability to define password complexity (such as length, alphanumeric, and special character requirements).
Secure Account Contact Sharing.
Zoom 5.0 supports a new data structure for larger organizations, allowing them to link contacts across multiple accounts so people can easily and securely search and find meetings, chat, and phone contacts.
Consent for unmute: When a meeting host has muted a participant, they can no longer unmute that person without their consent. That participant will now receive a prompt asking for consent to be unmuted. Note: With this feature, the option for hosts to Unmute All participants at once has been removed, but will return in a later release.
Temporarily removed GIPHY: To ensure strong privacy protection for users, Zoom has temporarily removed the GIPHY integration in Zoom Chat. Once additional technical and security measures have been deployed, Zoom will re-enable the feature.
Meeting information during screen share: Participants can now access meeting information, such as meeting ID, when sharing their screen. Find it under "More" in the meeting controls.
Multiple login restrictions: For meetings that require registration, hosts can choose whether to allow participants to join from multiple devices. This is available under Registration Options of the meeting details section in the web portal.
The week by week progress Zoom is making, is good for video conferencing in general. While more and more people are working from home, the number of business critical video conferences is rising. Initially, Zoom has been mostly criticised by its audience and foes by the datacenter jurisdiction. This is what Zoom now tells about the data center:
Data Center Information.
Hosts can now select which data center regions they would like their in-meeting traffic to use when scheduling a meeting, and participants can see which data center they are connected to by clicking on the info icon at the top left of the client window.
Talk.vc is continuing to monitor the progress made by Zoom. For more updates: www.zoom.us/security