WD551 by NEC, the product that customers asked for
With the introduction of WD551, Sharp NEC introduces a display that addresses the need to spice up the small office or meeting room with a fully functional interactive display. The 55″ display, featuring capacitive touch and full integration of 4K camera, speakers and microphone, hooks up with a single USB cable to your own laptop, sporting the applications you are already familiar with.
The NEC latest addition to the portfolio is positioned in the middle of the lineup of collaboration displays, targeted on the small office, formerly known as huddle room. At the moment of introduction, the 55″ display is the single answer to questions asked by many professionals returning to the office. "All we need is a system that allows us to run Teams. Or Zoom. Or whatever application I have been using while being locked up at home. But I need that same experience, but office-big."
WD551 is as special as NEC can be: innovative, unrivalled quality, hyper-certified and ready for the professional office. NEC addresses several use cases for interactive displays. Where most touch display vendors have no philosophy at all but driving numbers, NEC has a well-defined series of use cases for the application of WD551.
First, NEC defines the appropriate room size. And for that it uses the Microsoft playbook for room dimensions and targets to the small room, approximately 3 by 5 meters, suitable for 4 to 6 people. This sits right in the middle of Focus Room and Medium Room, with a collaboration radius of 2 meters. That makes WD551 extremely fit for small group meetings lasting up to an hour or so, for project discussions, sales pitches or general get-togethers.
Second, NEC addresses the tools you are already familiar with. By connecting the USB-C cable, all applications from the laptop can be transferred to the collaboration display. With a majority of Teams users in the field, NEC WD551 is directly suitable for MS Teams meetings and this is directly recognised by the MS Teams and Azure certification.
Third, NEC deepens on the experience of today and yet to come. Natural writing & Windows Ink is supported by the capacitive touch technology and the active pen. The beauty of operation is found in the on-screen touchable interface (OSD) or through physical control buttons, providing direct access to most used functions, like unmute, windows, or volume and source.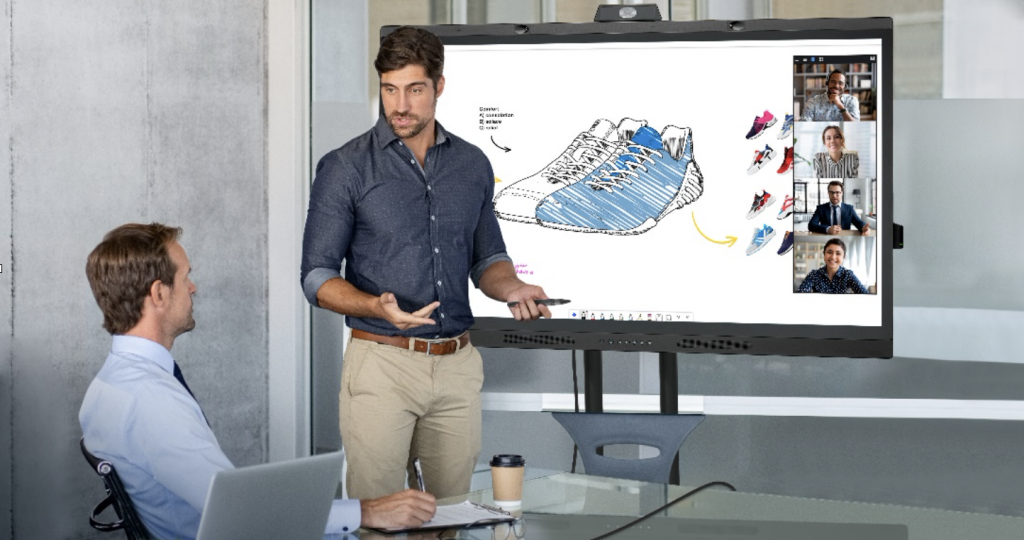 Having addressed room size, tools and experience, NEC further elaborates on various ways of using the system: with personal laptop, with Teams Room System (MTR) or with external PC, and at all times allowing the BYOM (Bring Your Own Meeting) principle to be available. This is not just limited to Teams. One can also use Google Meet, Zoom or any other application requiring video, touch or a combination!
In terms of technology, this system excels with 2 front facing speakers (12W) and a 15W subwoofer. The 4K camera has a 120 degree field of view, optimally visualising people in the room. The microphone array is strong enough to clearly pick up voices in a radius of up to 6 meters, with a 180 degree spread. 2x USB-C connectors (65W powered) fulfil the requirements to be a state of the art Windows companion, and alternatively devices can be connected through HDMI and USB-B.
Priced just below € 5.000 this room system is ideal for mass-deployment across branche offices, leaving much of the competition speechless.