Poly Blackwire 5210 USB Headset
Poly Blackwire 5210 USB is a multi purpose headset from the Poly Blackwire 5200 series. The headset features great sound for conferencing, but also for music applications. Characterising the 5200 series is the dual connectivity: choose between 3.5 mm connection or USB.
Poly 5200 series feature cushioned metal headband, providing all day wearing comfort. Within the 5200 series, 5210 indicates single ear (monaural) with passive noise reduction. The leatherette ear cushion shapes around the ear.
The boom (microphone) features a noise cancelling microphone, eliminating background sound and voices from others on the work floor, making sure that only the headset wearer is heard. When working from home, it easily eliminates music, television, houseguests and other distracting noises. The boom can be folded upwards to make one unheard.
The call control device on the wire provides call answer or call end and volume up, down or mute. The 3.5 mmm connection, as an alternative to USB-C or A, provides connectivity to devices like smart phones.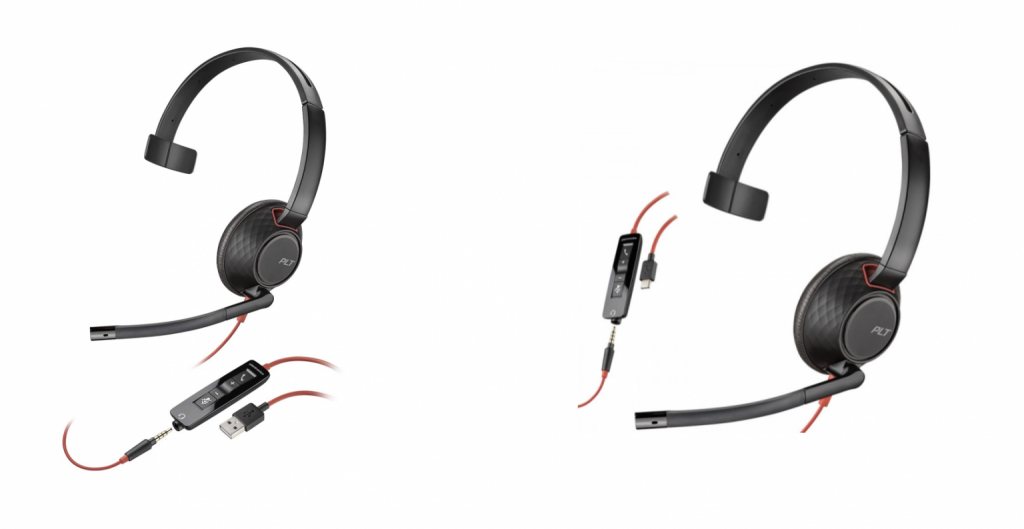 Blackwire 5210 is recommended for Work From Home (WFH) scenarios. The monaural version typically addresses the multifunctional, keeping one ear available to pick up other sounds. When listening frequently to music, or working as an agent handling multiple calls, the binaural (dual ear) version, may be preferred. This is Blackwire 5220.

About Poly Headsets
Polycom and Plantronics merged, back in 2018. Many Polycom distributors are also Plantronics distributors and many of their resellers carry at least some of the overlap in their portfolio. But still, when Polycom and Plantronics joined forces, it came as a surprise to many.
Plantronics (Plane Electronics) has created light weight headsets since the early 60's, with the famous words transmitted from moon to earth by Neil Armstrong coming through a Plantronics headset. Polycom industrialised conferencing and is known for many audio codecs and related patents. Acoustic Echo Cancellation and Siren 22 are among the audio technologies that make Polycom impossible to match when deploying microphones in conference environments. The superb combination is called 'Poly' today.