i3 enables control over the fleet of interactive displays
Obviously especially for i3 displays, but also for other (Android) based displays, i3 launches i3RDM. Supporting and managing displays made easy across the organisation.
By i3 Technologies (thanks: Yves Roose)
i3RDM enables support employees and IT administrators to manage and monitor an entire fleet of interactive flatpanels from anywhere at any time ensuring they will always have full control.
i3RDM allows you to acquire real-time data from the IFP and install and remove apps remotely so your organisation always has the latest apps available to use.
You can instantly deploy the apps and settings to a single device or to an entire device pool. i3RDM has specifically been designed for the IFP market and doesn't only work with our displays but with any Android-based touch display.
Brought as a cloud (SaaS) based model, i3RDM brings efficient remote management to IT Administrators and facility managers in charge of the conference or presentation rooms. With i3RDM all displays are in sight and can be managed, maintained and monitored. The entire fleet of panels can be structurally managed anytime, anywhere. This saves time and makes sure that the organisation has control over the various (touch) displays in the organisation.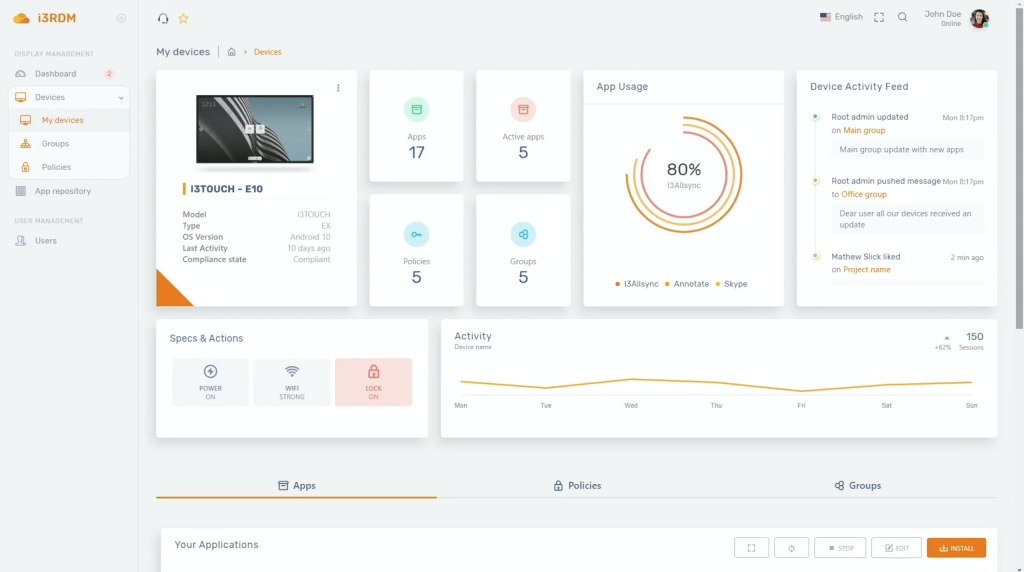 With i3RDM the i3TOUCH EX, E10R, PX and PXr series are directly 100% compatible and up for total control, but also a large range of other displays (running a version of 7.0 or higher version of Android) can be adopted in the management tool. Real time data can be acquired from the interactive flat panel, including an overview of installed apps, usage data and configuration.
i3RDM enables full control over apps to be installed, version control, push notifications and deployment of the display according to the company's desired settings. With i3RDM i3 brings simplicity and usability to a next level, for both users and administrators, taking away the fear for companies to massively adopt touch displays. This is very essential, since access to ideation is becoming a commodity in modern offices. i3 also enters the arena of Managed AV with the deployment of i3RDM.
Another interesting read from i3: Air quality measurement, through the CAIR (i3 air quality sensor, especially interesting in environments with a lot of technology).