Huddly: a camera that competes with the human eye
Huddly presents the logo with a shade of simplicity: the rectangle with four squares represent the meeting table with four participants working together on opposite sides of the table, but it also represents the letter H. Simplicity is not just a formula, it is part of the design Huddly adheres to.
Only a couple of years ago, Huddly appeared on the market and reinvented something that looked so simple to conferencing, yet overlooked and forgotten. The camera for the small meeting space. And Huddly seemed to have caught the attention of professionals in this market.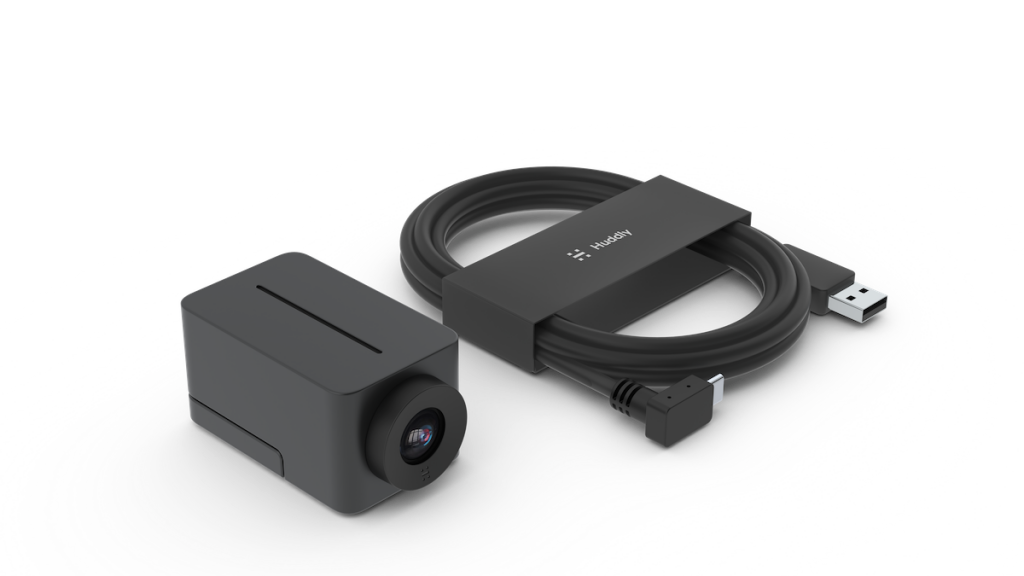 Why is it that such a small product catches the attention of the giants?
Huddly debuted with Huddly GO, a product with a serious price tag, but excellent features that were not yet discovered in normal meeting room areas. There are a couple of things that were revolutionary. First of all, the camera features a 'diagonal 150° wide-angle view'. Traditional cameras talk about their horizontal range of view, but Huddly clearly realised that imaging the huddle room involves height as much as it involves width. The result is a reliable image that doesn't only bring height and width, but also attributes to a better understanding of the depth.
To best demonstrate this, the debuting film still pictures well why this matters. The idea of the concept becomes clear and it embodies a better image, future proof because of software upgrades, intelligence because of a cloud attached device and last but not least: compact and affordable.
To address the last: affordable is a bit contradicting to the earlier stated price tag. But that is if you compare Huddly to a webcam. Logitech Brio may cost half, but any Lumens, Sony, or other conference room camera would cost at least double. And this is exactly what sets Huddly apart: it is not a conference camera for the large room, nor is it a webcam for the desktop per sé, but it is somewhat in between and that is a huge arena.
Anything up to 5 x 5 meters would actually qualify for Huddly and would perfectly fit. A meter more or less doesn't really matter, but it is definitely not recommended to use this in a larger room.
Huddly connects through USB and it is a single cable powered camera, so minimum hassle during install. Heckler develops nifty mounts and the camera itself comes with an intelligent folding clip to mount above the display, a quarter inch screw allows the cam to be mounted on a tripod.
More than a webcam and still not a broadcast cam, that is exactly what 90% of the meeting rooms redressed today are looking for. And that is what Huddly delivers.
The camera made its first appearance in the conference league as Huddly GO and soon featured a more intelligent brother named Huddly IQ, adding AI to the camera. It allows a neural engine to spot conference participants, automate PTZ (panning, tilting and zooming) on them and intelligently framing them in the center of the image. The AI can also enhance analytics, the camera – with its software – fosters tools to put numbers to the people in the lens.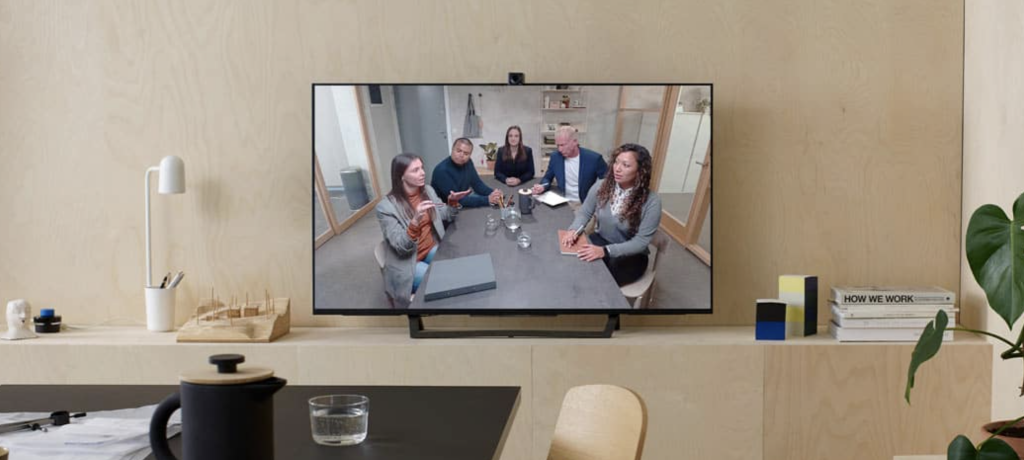 Huddly users will love the quality. The camera has a sharp eye that definitely competes with the human eye and brings an enormous sharp image of the huddle room to its application. Huddly is a USB companion, so it is not a platform for conferencing, but agnostic hardware. And perhaps that is why Lenovo loves it for its ThinkSmart Hub family, or Crestron for its Flex range. It is the embedded camera in Crestron Sound / Camera bars and NEC has done the same deal for a number of tools around their (Infinity) collaboration boards.
Price indication: Huddly GO is priced around 290 euros / 350 US dollars and Huddly IQ starts at 450 euros.