Samsung will introduce QMR series as new mainstream for signage and presentation
With an intelligent upscaling to UHD, Samsung will bring more vivid images to the market at real affordable pricing. The leading LFD panel manufacturer recently introduced the QMR Series, featuring some very important functionalities that have not been introduced before.
One of the very nice features is an intelligent upscaling to UHD. With UHD becoming mainstream, but with lack of applications and images, UHD may seem overkill at some times, and even may produce weird images when not all display estate is used. The technology Samsung recently introduced, shows that intelligence is the answer behind a number of potential threads that may display inferior images.

Examples are:
– computers not having the appropriate resolution
– images that are compressed and not real 4K
– images with a different aspect ration
– incapacity of certain devices to display 4K
Samsung QMR series allow images to look better by suppression of noise, using HDR+ technologies that carefully convert standard definitions to higher definitions with a 10-bit color depth accuracy, adding more vivid color, increasing contrast and optimising glare.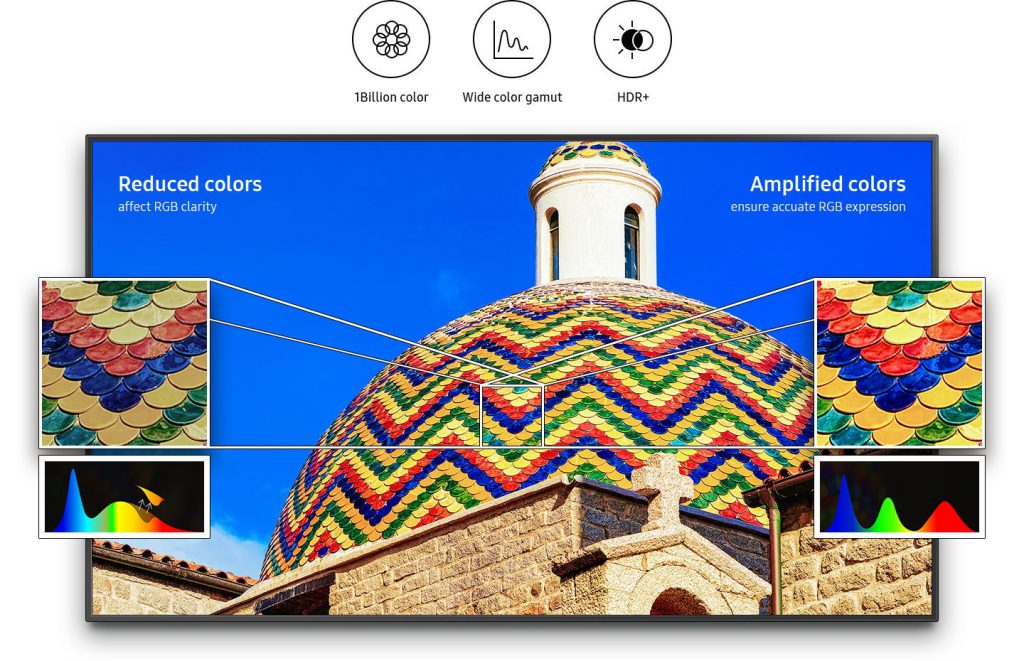 Samsung QMR is ideal for digital signage and video conferencing. The series come in sizes starting at 32″ although this display is just a Full HD display and has a brightness of 400 Nits, whereas the 43″ and larger displays feature UHD and 500 Nits brightness.
Samsung's own signage based on MagicINFO is boosted by the Tizen chipset and all the displays in these series feature the the following characteristics:
symmetrical design (3 bezels same size and no strange back bubble)
slim line back of the display with thoughtful cable management
24/7 operation
built-in WiFi and Bluetooth
non-glare panel
All Samsung displays for commercial use feature a 3 year business to business warranty with worldwide coverage.