NEC's collaboration in real time, using FlatFrog
FlatFrog is a name that often pops up in relation to electronic whiteboards. Why is that? FlatFrog pioneered InGlass™ technology in large interactive displays. Their embedded technology is used by the world's leading display manufacturers. Samsung and NEC are great examples. Samsung's Flip is using this technology and NEC uses it for its prime series of collaboration boards, initially launched as NEC Infinity Board.
"Optical emitter and detectors around the periphery of the display create a light fan-grid in front of the screen. Sampling based on proprietary InGlass™ scanning algorithms allows tiny disturbances, created on the surface by an object, to be immediately detected on the receivers. Proprietary image reconstruction algorithm determines all touch and pen coordinates in real time leading to a no-lag experience." But what does this mean? That it is very cool and accurate. That is to say it short and concise.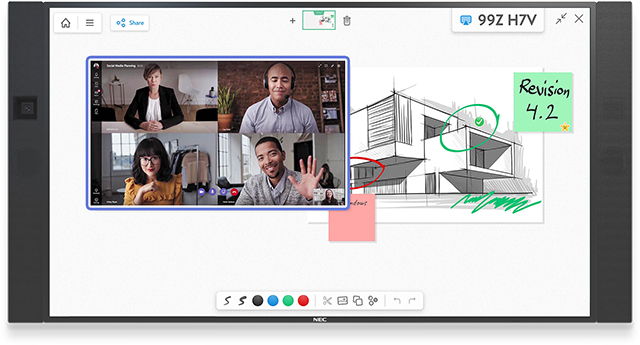 The NEC display with its side mount speaker bars (on the left side a Huddly camera is included) provides a very complete solution for collaboration. The quality of NEC is indisputably superior and the consistency of the colors and image quality over time explain very well why serious corporate customers stick with NEC, despite a bit higher price tag.
FlatFrog now launches a suite of software, tailored to the InGlass technology which is very accurate and responsive to gestures and movements typically made on a touch display. But now the ease of use bring NEC and FlatFrog much closer to mass adoption than ever before.
FlatFrog software, featuring many collaboration functionalities, is available free of charge for NEC display owners, making the solution more complete and challenging. FlatFrog has divided the various approaches to collaboration into 3 areas: FlatFrog Rooms, FlatFrog Board and InGlass Displays, the latter being hardware related.
FlatFrog Rooms provides a way to design meeting rooms, in conjunction with an InGlass powered display and a camera or video bar, like Polycom Studio. The software is designed to make video collaboration, annotation and whiteboarding an integrated solution. FlatFrog Board is designed for personal devices and brings the PC or Laptop to the collaboration efforts.