Heckler AV Credenza
Heckler AV Credenza is a premium credenza offering a solution for multiple components in a tidy rack.
The systematic problem of today's video conferencing or multimedia environments is simply that the AV gear needs a rack. And racks are generally no eye candies.
Heckler AV Credenza combines the functionality with design, but it is also a space saving option. And in addition it is a rack designed to pre-install the most common gear in the AV environment. A typical AV installation involving video conferencing is combined of a number of components. As shown on the picture, the AV installation may contain the computer, it may contain a switch, it may contain a power surge protector, it may contain an amplifier and it may contain a DSP. And if the AV requirements are increasing, so is the number of components in the rack.
A very simple video conferencing installation may have components that are stuffed behind the display, but this requires extreme planning and when performing service, the real mess will appear. On top of this all: components like a camera and maybe a control panel do not have a real place of their own.
Heckler AV Credenza addresses these typical issues with an all in one type of credenza. The credenza is typically a '6U Credenza', allowing for 6 rack mount unit heights. Many AV and IT components have standard sizes and will fit in their 19" rack space. Some components are designed as 9.5" and allow two components to live next to each other in a rack space. Heckler AV Credenza has two sides of 3U each to hide and cable the most important components for video conferencing and media presentation.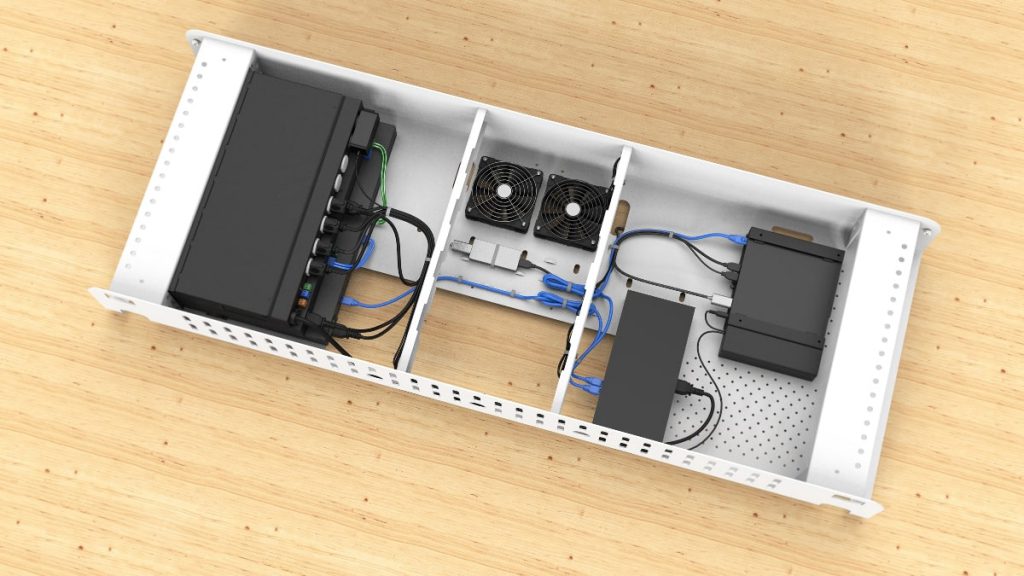 Let's take a popular boardroom based on Microsoft Teams. The user group is determined to have Microsoft Teams for regular group video conference meetings and when video conferencing is not in use, the system must be designed for local presentation with touch. In many rooms like these, for video conferencing Logitech Tap may come in, and for local presentation with touch, Barco ClickShare may be the desired option. To auto switch sources (from Teams meeting back to the touch display), an Extron switch may be used. With these relatively normal and standard components, a rack can be filled. And then we are just talking about the components and not the cables.
The design of Heckler AV Credenza ideally puts these components where they belong: properly sorted and installed neatly, as close as possible to the display. The route to the camera is as short as possible and the camera can be placed at the ideal height, just on top of the credenza. The two gangs to the display may house the HDMI cables to the display and maybe network and power coming from behind the display. A minimum or no cable visibility is the end result.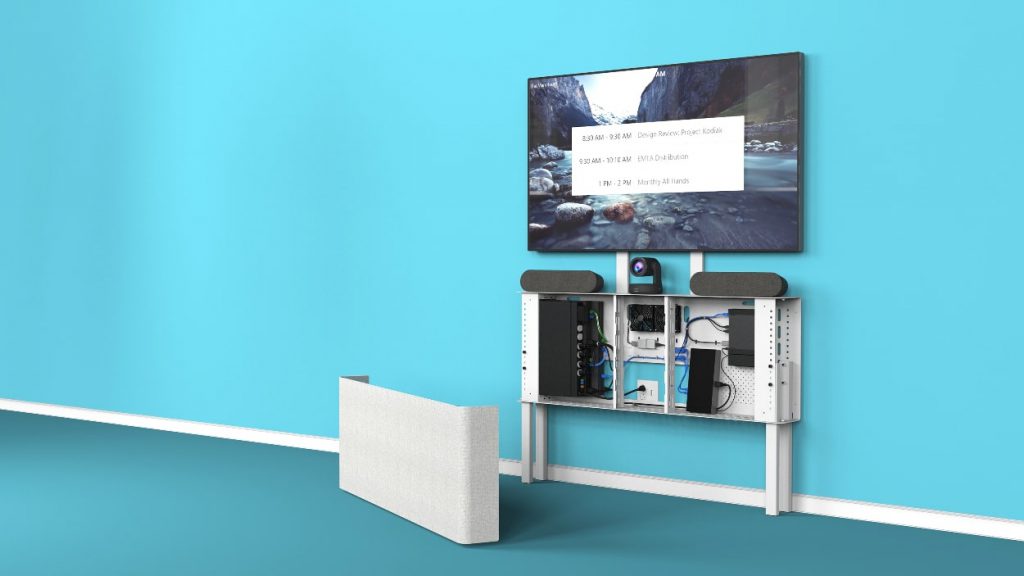 This is not the only advantage of Heckler AV Credenza: this unibody is also a perfect fit for uniform installations, prepared at the integrator's workshop and to be transported to customers worldwide. On location, a minimum amount of works is required to permanently mount the credenza under the display to the wall. Servicing is equally easy, because the front cover can be taken off and all components are in sight.
Heckler AV Credenza is a popular product for Zoom Rooms, Microsoft Teams Rooms and many collaboration rooms involving a touch display with at least some professional equipment that needs a place to live.